Панченко К.А. Испить смертное зелье: Александрийский патриарх Иоаким (1448-1567) между эпосом и историей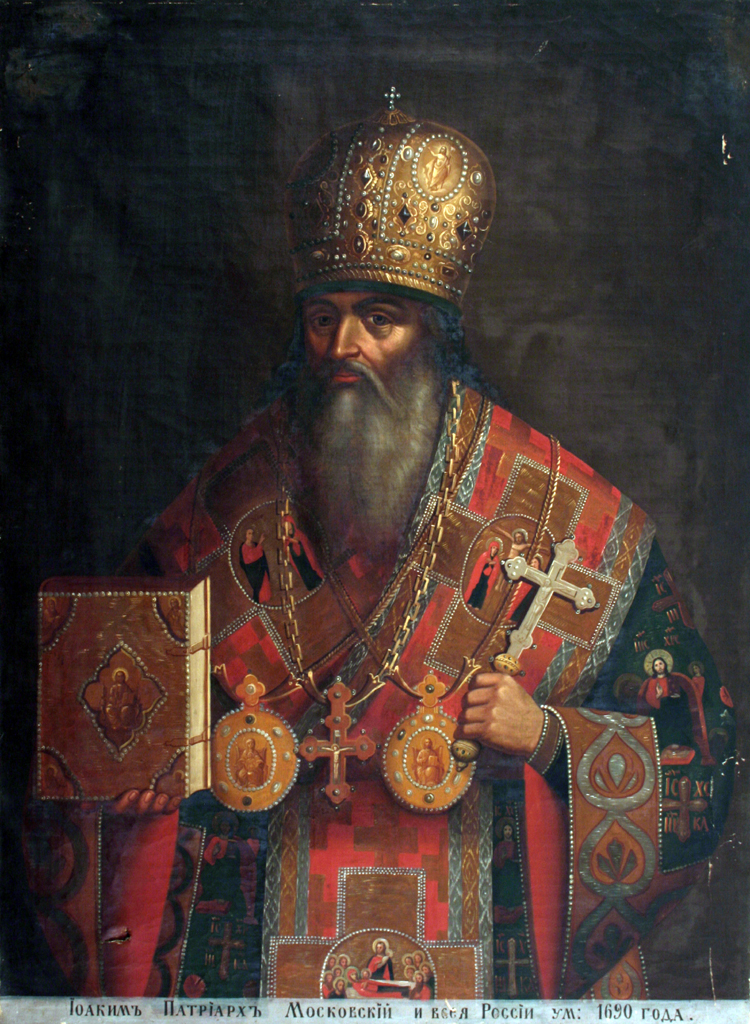 Панченко К.А. Испить смертное зелье: Александрийский патриарх Иоаким (1448-1567) между эпосом и историей // Исторический вестник. 2017. Т. ХХ. С. 136—163.
Panchenko K.A. Drink a mortal potion: Patriarch Joachim of Alexandria (1448-1567) between epic and history [Ispit' smertnoe zel'e: Aleksandrijskij patriarh Ioakim (1448-1567) mezhdu eposom i istoriej]. Istoricheskij vestnik / Historical Reporter. 2017. Vol. 20. P. 136–163.
Ключевые слова: Ближневосточное христианство, антииудейская полемика, александрийский патриарх Иоаким, Мамлюкский султанат.

Key Words: Middle Eastern Christianity, anti-Judaic controversy, Alexandrian Patriarch Joachim, Mamluk Sultanate.
Abstract
During and after his lifetime Joachim I, Greek Patriarch of Alexandria (born 1448–1567, patriarch since 1486/7), has been cherished as a Wonderworker. The most famous legend dedicated to him depicts the Patriarch who drains the cup of poison under Mamluk Sultan's order as validation for the Christian Faith and stays safe. Amazing is that this mythical legend was formed during the Patriarch's lifetime, more then that, Russian legate Vasily Pozniakov in 1560 recorded that story fr om Joahim's own words. The article attempts to analyse the miracles signed to the Patriarch of Alexandria through Russian, Arab Christian and Greek sources, and to sort out of topoi and circulating literature plots real life events, upon which the legend could be based . The spotlight falls upon the Middle East Christians' anti-Jewish discourse, the plot of a dispute at a royal court and a trial for a righteous Christian, who did miracles to verify his faith. The legend about a mountain that moved in response to Patriarch Joachim's preyer, origins from the 10th century Copt folklore and is no doubt a Myth. Though the legend about the poison to be drained, which definitely has multiple duplicates in the Middle East Christian literature [epic of John's of Edessa miracles (9th century AD), in particular], contains the whole range of unique facts and data new to the hagiographic tradition and probably related to the real circumstances of Joachim's trial. Likewise, the Life of Theophilos the Myrrh-streamer (died in 1548), the ascetic from Mount Athos, confirms the story of Joachim's miracle, irrespectively of the Arab-Christian sources. Comparison of the Life of Theophilius and the Arab-Moslem chronicles of Ibn Iyas (late 15th — early 16th century) allows the estimation that Joachim was tried with poison in the period between April and June 1498. The article attempts to reconstruct the historical context of this event. Carefully examined are the genesis of the Joachim's Miracles Legend and the circumstances of it's written records.
Аннотация

Во время и после его жизни Иоахим I, греческий Патриарх Александрии (родился 1448–1567, патриарх с 1486/7), был взлелеян как чудотворец. Самая известная легенда, посвященная ему, изображает патриарха, который осушает чашу яда по приказу Мамлюка султана как подтверждение христианской веры и остается в живых. Удивительно, что эта мифическая легенда сложилась еще при жизни Патриарха, более того, русский легат Василий Позняков в 1560 г. записал эту историю со слов самого Иоахима. В статье предпринята попытка проанализировать чудеса, подписанные Александрийскому патриарху через русские, арабские христианские и греческие источники, а также выделить из топоев и циркулирующей литературы сюжеты реальных жизненных событий, на которых могла бы основываться легенда. В центре внимания — антиеврейский дискурс ближневосточных христиан, сюжет спора при королевском дворе и суд над праведным христианином, совершившим чудеса для подтверждения своей веры. Легенда о горе, которая двигалась в ответ на Прейер патриарха Иоакима, берет свое начало из коптского фольклора X века и, несомненно, является мифом. Хотя легенда о яде, который должен быть осушен, которая определенно имеет несколько дубликатов в ближневосточной христианской литературе [эпос Иоанна Эдесского чудес (IX век н. э.), в частности], содержит весь спектр уникальных фактов и данных, новых для агиографической традиции и, вероятно, связанных с реальными обстоятельствами суда Иоакима. Точно так же и жизнь Феофила стримера (умершего в 1548 году), подвижника с Афона, подтверждает рассказ о чуде Иоакима, безотносительно к арабо-христианским источникам. Сопоставление жития Феофилия и арабо-мусульманских хроник Ибн-Ияса (конец XV-го — начало XVI века) позволяет предположить, что Иоахим был отравлен в период между апрелем и июнем 1498 г. В статье предпринята попытка реконструировать исторический контекст этого события. Тщательно изучены происхождение легенды о чудесах Иоакима и обстоятельства ее письменных записей.
References
1. Veselovskiy A.N. A Narrative about a Polemic between Jews and Christians / Veselovskiy A.N. Papers on Literature and Folklore. Supplements to Volume XLV
of the Papers of the Imperial Academy of Science. [K skazaniyu o prenii zhidov s hristianami / Zametki po literature i narodnoy slovesnocti. Prilozheniya k XLV tomu zapisok Imperatorskoy Akademii nauk]. N. 3. St.-Petersburg, 1883. P. 14–33.
2. The Vitas and Miraculous Visions of Saints Basil the New and Grigentius, the Archbishop of Ethiopia [Vot zhizn' viechnaya: Zitiya i chudesniye videniya Vasiliya Novogo i Grigentiya, arhiepiskopa Efiopskogo]. Moscow, 2010.
3. The Life and Pilgrimage to Jerusalem and Egypt of Vasiliy Yakovlev Gagara from Kazan in 1634–1637 years [Zhitiye i hozdeniye v Ierusalim i Egipet kazantsa Vasiliya Yakovleva Gagari. 1634–1637 gg.]. St.-Petersburg, 1891.
4. The Vita of Saint Theophilos the Myrrh-streamer [Zhitiye prepodobnogo Feofila Mirotochivogo] / Biographies of Saints who lived on Mount Athos [Zhitiya sviatih, prosiyavshih na Sviatoy Gore Afon]. Minsk, 2003. P. 455–462.
5. John Moschus. The Spiritual Meadow [Sinayskiy Paterik ili Lug duhovniy]. Moscow, 2008.
6. Kartashov A.V. Essays on the History of the Russian Church [Otcherki po istorii russkoy tserkvi]. T. 2. Moscow, 1993.
7. K.S. Kekelidze. Biography and Heroic Deeds of Saint John, the Catholikos of Urfa [Zhitiye i podvigi sv. Ioanna, katolikosa Urhayskogo] / Hristianskiy Vostok. St.-Petersburg, 1914. P. 301–348.
8. Mednikov N.A. Palestine from the Arab Conquest to the Crusades according to the Arabic Sources [Palestina ot zavoevaniya eye arabami do krestovih pohodov po arabskim istochnikam]. T. 1. St.-Petersburg, 1897.
9. Sophia A. Moisseeva. The Court Debate with a Jew as a Plot in Arabic Christian Hagiography [S'uzhet pridvornogo disputa s iudeyem v arabo-hristianskoy agiografii] / Vestnik Pravoslavnogo Sviato-Tikhonovskogo Gumanitarnogo Universiteta. Ser. III, Moscow, 2010, n. 4 (22). P. 32–43.
10. A Description of the Holy Mountain Sinai and its Environs Written in Verses by Paisius Hagiapostolites, Metropolitan of Rodos, between 1577 and 1592 [Paisiya Agiapostolita mitropolita rodskogo opisaniye Sv. Gori Sinayskoy I eya okrestnostey v stihah, napisannoye mezdu 1577 i 1592 gg.]. St.-Petersburg, 1891.
11. Panchenko C.A. The Melkite Protorenaissance [Melkitskiy protorenessans] / Kapterevskiye Chteniya. T. 11. Moscow, 2013. P. 72–87.
12. Panchenko C.A. When and Wh ere the Melkite Renaissance Began? The Life and Works of Yuwakim, Metropolitan of Bethlehem [Kogda i gde nachalsa Melkitskiy
renessans? Zhizn' i trudi vifleemskogo mitropolita Ioakima / Panchenko C.A. The Orthodox Arabs. The Way through Centuries. [Pravoslavniye arabi. Put' cherez veka]. A collection of articles. Moscow, 2013. P. 266–282.
13. Porfiriy Uspenskiy. The Patriarchate of Alexandria. A Collection of Documents, Researches and Data, Dealing with the History of the Patriarchate of Alexandria [Alexandriyskaya patriarhiya. Sbornik materialov, issledovaniy i zapisok, otnosjashhihsja do istorii Alexandriyskoy patriarhii]. vol. I., St.-Petersburg, 1898. P. 15–28.
14. Russia and the Greek World in the XVI-th century [Rossiya i Grecheskiy mir v XVI veke] / Ed. Kashtanov S.M. Moscow, 2004.
15. The Pilgrimage of Merchant Vasiliy Pozniakov to the Holy Sites of the East, 1558–1561 [Hozhdeniye kuptsa Vasiliya Pozniakova po sviatim mestam Vostoka. 1558–1561 g.]. St.-Petersburg, 1887.
16. M. Cohen and S. Somekh. In the Court of Ya'qub ibn Killis: a fragment from the Cairo Genizah / Jewish Quarterly Review, 30 (1990). P. 283–314.
17. Dols Michael W. The Black Death in the Middle East. Princeton, 1977.
18. Eutichii Patriarchae Alexandrini Annales. Pars posterior. Accedunt Annales Yahia Ibn Said Antiochensis / Ed. L. Sheikho. Beryti, Parisiis, 1909.
19. Ernst H. (ed.) Die mamlukischen Sultansurkunden des Sinai-Klosters. Wiesbaden. 1960.
20. History of the Patriarchs of the Egyptian Church (History of the Holy Church). Ed. and transl. by A.S. Atiya, Yassa Abd al-Masih, O.H.E. Burmester. Vol. 2. Part. 2. Cairo, 1948.
21. Muḥammad ibn Aḥmad Ibn Iyas al-Ḥanafī. Al-Muḫtasar min badā'i al-zuhūr fi waqā'iʻ al-duhūr. Al-Qāḥira, 1960.
22. Peters P. La passion de S. Michelle Sabaite / Analecta Bollandiana. Bruxelle, 1930. Vol. 48. P. 65–98.
23. Runciman S. The Great Church in Captivity. Cambr. 1968.
24. Shallenberg G. Intoxication and ecstasy: Sufi terminology in the work of Ibn Qayyim al-Gawziya / Egypt and Syria in the Fatimid, Ayyubid and Mamluk Eras. IV. Eds. U. Vermeulen and J. van Steenbergen. Leuven, 2005. P. 459–474.
25. Stillman N.A. The Non-Muslim Communities: the Jewish Community / The Cambridge History of Egypt. Vol. 1. Cambr., 1998. P. 198–210.
26. Swanson M. The Coptic Papacy in Islamic Egypt (641–1517). Cairo–N.Y., 2010.
27. Χρυσόστομος (Καλαίτζής). Ο Αγιος Νηφων ως Οικουμενικος Πατριάρχης / Ο Αγιος Νηφων Πατριάρχης Κωηςταητιηογπολεως 1508–2008. Αγιοη Ορος, 2008.
Панченко Константин Александрович – доктор исторических наук, профессор кафедры истории стран Ближнего и Среднего Востока ИСАА МГУ имени М.В. Ломоносова.
Сonstantin A. Panchenko — D.Sc. (History), Professor of the Institute of Asian and African Studies of the Moscow State University (Department of the Middle Eastern History).
Номер журнала, к которому относится содержание