Y. Spyropoulos. Janissaries: A Key Institution for Writing the Economic and Political History of Ottoman Muslims in the Early Modern Period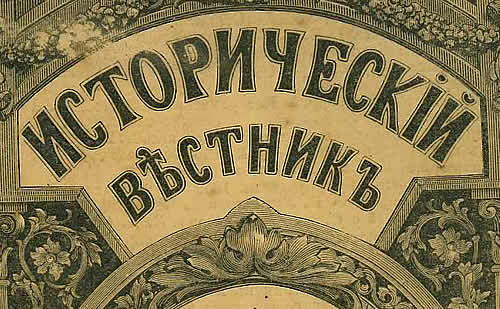 Яннис Спиропулос. Янычары: ключ к пониманию экономической и политической истории османских мусульман раннего Нового времени // Исторический вестник. 2019. Т. ХXIХ. С. 104—133. DOI: 10.35549/HR.2019.2019.47855
Yannis Spyropoulos. Janissaries: A Key Institution for Writing the Economic and Political History of Ottoman Muslims in the Early Modern Period [Yanychary: klyuch k ponimaniyu ekonomicheskoj i politicheskoj istorii osmanskih musul'man rannego Novogo vremeni]. Istoricheskij vestnik / Historical Reporter. Vol. 29. 2019. P. 104—133. DOI: 10.35549/HR.2019.2019.47855
Ключевые слова: янычары, османские провинции, Восточное Средиземноморье, исламские сети взаимодействия, общественная политика, исламская торговля.
Key words: Janissaries, Ottoman provinces, Eastern Mediterranean, Muslim networks, popular politics, Muslim trade.
Abstract
This article's main argument is that in the course of the eighteenth century, the Janissary corps evolved into a powerful platform for the exchange of people, goods, and ideas between different localities covering a vast geographical area. By elaborating on this idea this paper maintains that the Janissaries should be treated as a key institution for the examination of Muslim economic and political history in the Ottoman periphery. We claim that the study of their networks has the potential to drastically redefine our current perception of the sociopolitical and financial role of Muslims in the early modern Ottoman Empire. Such a research can help us create a more balanced and less 'Eurocentric' picture of the trading operations of Muslims in the region and better understand the dissemination of ideas and political movements between a number of Muslim communities where the Janissaries had a strong presence.
Аннотация
Главный тезис статьи — то, что на протяжении XVIII века, корпус янычар эволюционировал в мощную платформу перемещения людей, товаров и идей между различными регионами обширного географического пространства. Обосновывая эту идею, автор статьи подчеркивает, что янычары — как институт — являются своеобразным ключом к исследованию экономической и политической истории исламских общин на периферии Османской империи. На взгляд автора, исследование этих сетей взаимодействия позволяет радикально пересмотреть нынешнее восприятие социополитической и финансовой роли мусульман в Османской империи раннего Нового времени. Подобные исследования дают возможность выработать более сбалансированную и менее «евроцентричную» картину мусульманских торговых операций в регионе, и лучше понять распространение идей и политических движений среди различных исламских общин в тех регионах, где присутствие янычар было значимым.
References
1. Anastasopoulos A., Spyropoulos Y. Soldiers on an Ottoman Island: The Janissaries of Crete, Eighteenth — Early Nineteenth Centuries. Turkish Historical Review 8, no. 1, 2017, P. 1–33.
2. Asdrachas S. Η ελληνική οικονομία κατά τον ΙΗ΄ αιώνα: οι μηχανισμοί. Ελληνική Κοινωνία και Οικονομία, ιη΄-ιθ΄αι.. Athens: Ermis, 1982.
3. Bachrouch T. Formation sociale barbaresque et pouvoir a Tunis au XVIIe siecle. Tunis: Publications de l'Universite de Tunis, 1977.
4. Bachrouch T. Les elites tunisiennes du pouvoir et de la devotion : Contribution a l'etude des groupes sociaux dominants (1782–1881). PhD diss., Universite de Paris — Sorbonne, 1981.
5. Bağış A.I. Osmanlı Ticaretinde Gayri Muslimler: Kapitulasyonlar — Beratlı Tuccarlar, Avrupa ve Hayriye Tuccarları (1750–1839). Ankara: Turhan Kitabevi, 1983.
6. Barkey K. Empire of Difference. The Ottomans in Comparative Perspective. New York: Cambridge University Press, 2008.
7. Bodman H.L. Political Factions in Aleppo, 1760–1826. Chapel Hill: University of North Carolina Press, 1963.
8. Cezar Y. Osmanlı Maliyesinde Bunalım ve Değişim Donemi (XVIII. Yy.dan Tanzimat'a Mali Tarih). Istanbul: Alan Yayıncılık, 1986.
9. Chassiotis L., Katsiardi-Hering O., Ambatzi E. Eds, Οι Έλληνες στη Διασπορά, 15ος — 21ος αι.. Athens: Parliament of Greece, 2008.
10. Cherif M.-H. Pouvoir et Societe dans la Tunisie de Husayn Bin 'Ali (1705–1740), vol. 2. Tunis: Publications de l'Universite de Tunis, 1986.
11. Clogg R. Smyrna in 1821: Documents from the Levant Company Archives in the Public Record Office. Μικρασιατικά Χρονικά 15, 1972.
12. Coller I. Ottomans on the Move: Hassuna D'Ghies and the 'New Ottomanism' of the 1830s. Mediterranean Diasporas: Politics and Ideas in the Long 19th Century. Eds Maurizio Isabella and Konstantina Zanou. London, New Delhi, New York, and Sydney: Bloomsbury, 2016, P. 97–116.
13. Cornell E. On Bektashism in Bosnia. Alevi Identity: Cultural, Religious and Social Perspectives . Eds Tord Olson, Elisabeth Ozclalga, and Catharina Raudvere. Istanbul: Swedish Research Institute, 1998, P. 9–13.
14. d'Ohsson I. M., Tableau general de l'empire othoman, vol. 7. Paris: Firmin Didot pere et fils, 1824.
15. Darling L.T. Istanbul and Damascus: Officials and Soldiers in the Exercise of Imperial Power (C. 1550–1575). Osmanlı İstanbulu IV: IV. Uluslararası İstanbulu Sempozyumu Bildirileri 20–22 Mayıs 2016, İstanbul 29 Mayıs Universitesi . Eds F. M. Ecemen, A. Akyıldız, and E. S. Gurkan. Istanbul: İstanbul 29 Mayıs Universitesi and İstanbul Buyukşehir Belediyesi, 2016, P. 313–338.
16. de Bonneval Ph., Dumas M., Αναγνώριση της νήσου Κρήτης: μια μυστική έκθεση του 1783, trans. and eds G. Nikolaou and M. Peponakis. Rethymno: Mitos, 2000.
17. Dertilis G. Banquiers, usuriers et paysans. Reseaux de credit et strategies du capital en Grece (1780–1930). Paris: La Decouverte, 1988.
18. Dumas M. Souvenirs du lieutenant general comte Mathieu Dumas de 1770 a 1838, vol. 1. Paris: Librairie de Charles Gosselin, 1839.
19. Eldem E. Capitulations and Western Trade. The Cambridge History of Turkey. Ed. Suraiya Faroqhi. Cambridge: Cambridge University Press, 2006, P. 283–335.
20. Eldem E. Strangers in Their Own Seas? The Ottomans in the Eastern Mediterranean Basin in the Second Half of the Eighteenth Century [Mediterraneo nel Settecento: Identita e scambi]. Ed. Piero Sanna. Napoli: Bibliopolis, 2009–2010, P. 25–58.
21. Erginbaş V. Enlightenment in the Ottoman Context. Historical Aspects of Printing and Publishing in Languages of the Middle East: Papers from the Symposium at the University of Leipzig, September 2008. Ed. Geoffrey Roper. Leiden and Boston: Brill, 2014, P. 53–100.
22. Fleet K. European and Islamic Trade in the Early Ottoman State: The Merchants of Genoa and Turkey. Cambridge: Cambridge University Press, 1999.
23. Fleet K., Ianeva S. Ottoman Economic Practices in Periods of Transformation: The Cases of Crete and Bulgaria. Ankara: Turk Tarih Kurumu, 2014.
24. Gezer Y. Yazma Eserler Işığında Patrona Halil İsyanı Hakkında Yeni Bir Değerlendirme. Osmanlı İstanbulu III. Eds Feridun M. Emecen, Ali Akyıldız, Emrah Safa Gurkan. Istanbul: İstanbul 29 Mayıs Universitesi and İstanbul Buyukşehir Belediyesi, 2015, P. 331–352.
25. Ginio E. When Coffee Brought About Wealth and Prestige: The Impact of Egyptian Trade on Salonica. Oriente Moderno 25, no. 1, 2006, P. 93–107.
26. Gounaris B.C. Reassessing Wheat Crises in Eighteenth-Century Thessaloniki. The Historical Review/La Revue Historique 5, 2008, P. 41–65.
27. Gradeva R. Between Hinterland and Frontier: Ottoman Vidin, Fifteenth to Eighteenth Centuries. The Frontiers of the Ottoman World. Ed. A. C. S. Peacock. New York: Oxford University Press, 2009, P. 331–351.
28. Greene M. A Shared World: Christians and Muslims in the Early Modern Mediterranean. Princeton: Princeton University Press, 2000.
29. Hadjikyriacou A. Society and Economy on an Ottoman Island: Cyprus in the Eighteenth-Century. PhD diss., School of Oriental and African Studies, 2011.
30. Gibb H. A. R., Bowen H. Islamic Society and the West: A Study of the Impact of Western Civilization on Moslem Culture in the Near East, vol. 1: Islamic Society in the Eighteenth Century, part 1. London, New York, and Toronto: Oxford University Press, 1950.
31. Hanna N. Money, Land and Trade: An Economic History of the Muslim Mediterranean. London and New York: I. B. Tauris, 2002.
32. Harlaftis G., Papakonstantinou K. Η ναυτιλία των Ελλήνων, 1700–1821, ο αιώνας της ακμής πριν από την Επανάσταση. Athens: Kedros Publications, 2013.
33. Hovannisian G., Myers D. N. . Eds, Enlightenment and Diaspora: The Armenian and Jewish Cases. Atlanta: Scholars Press, 1999.
34. İlgurel M. Acemi Oğlanı. Turkiye Diyanet Vakfı İslam Ansiklopedisi, vol. 1, P. 324–325.
35. Imber C., The Ottoman Empire, 1300–1650: The Structure of Power. Houndmills: Palgrave Macmillan, 2002.
36. Kafadar C. Janissaries and Other Riffraff of Ottoman Istanbul: Rebels Without a Cause? International Journal of Turkish Studies 13, no. 1–2, 2007, P. 113–134.
37. Kafadar C. On the Purity and Corruption of the Janissaries. The Turkish Studies Association Bulletin 15, no. 2, 1991, P. 273–280.
38. Karahasanoğlu S. Challenging the Paradigm of the Tulip Age: The Consumer Behavior of Nevşehirli Damad İbrahim Paşa and His Household. Living the Good Life: Consumption in the Qing and Ottoman Empires of the Eighteenth Century. Eds. Suraiya Faroqhi and Elif Akcetin. Leiden and Boston: Brill, 2017, P. 134–161.
39. Kılıncoğlu D.T. Economics and Capitalism in the Ottoman Empire. London and New York: Routledge Curzon, 2015.
40. Kırlı C. Coffeehouses: Public Opinion in the Nineteenth Century Ottoman Empire. Public Islam and the Common Good. Eds Armando Salvatore and Dale F. Eickelman. Leiden: Brill, 2004, P. 75–97.
41. Kırmızı A. Experiencing the Ottoman Empire as a Life Course: Ferid Pasha, Governor and Grandvizier (1851–1914). Geschichte und Gesellschaft 40, no. 1 (2014), P. 42–66.
42. Kitromilidis P. Από την Ορθόδοξη Κοινοπολιτεία στις εθνικές κοινότητες: ελληνορωσικές πνευματικές σχέσεις. Τα Ιστορικά 10, 1989, P. 29–46.
43. Konrad F. Coping with "the Riff-Raff and Mob": Representations of Order and Disorder in the Patrona Halil Rebellion (1730), Die Welt des Islams 54, no. 3–4, 2014, P. 363–398.
44. MacFarlane C. Constantinople in 1828. Λονδίνο: Saunders and Otley, 1829.
45. Mardin S. Freedom in an Ottoman Perspective. State, Democracy and The Military: Turkey in the 1980s. Eds M. Heper and A. Evin. Berlin: W. De Gruyter, 1988, P. 23–35.
46. Masters B. Aleppo's Janissaries: Crime Syndicate or Vox Populi. Popular Protest and Political Participation in the Ottoman Empire: Studies in Honor of Suraiya Faroqhi. Eds Εleni Gara, Μehmet Erdem Kabadayı, and Christoph K. Neumann. Istanbul: Bilgi Unıversity Press, 2011, P. 159–176.
47. McGowan B. The Age of the Ayans, 1699–1812. An Economic and Social History of the Ottoman Empire, 1300–1914, vol. 2. Eds Halil İnalcık, Donald Quataert. Cambridge: Cambridge University Press, 1997, P. 639–758.
48. Menage V. L. Devshirme. The Encyclopaedia of Islam. New Edition, vol. 2, P. 210–213.
49. Moalla A. The Regency of Tunis and the Ottoman Porte, 1777–1814: Army and Government of a North-African Ottoman Eyālet at the End of the Eighteenth Century. London and New York: Routledge Curzon, 2004.
50. Murphey R. Yeni Čeri. The Encyclopaedia of Islam. New Edition, vol. 11, P. 322–331.
51. Mustafa Ali. The Ottoman Gentleman of the Sixteenth Century: Mustafa Ali's Meva'idu'n-nefa'is fi kava'idi'l-mecalis, 'Tables of Delicacies Concerning the Rules of Social Gatherings', trans. Douglas S. Brookes, Sources of Oriental Languages and Literatures 59. Turkish Sources LI . Eds Şinasi Tekin and Gonul Alpay Tekin. Cambridge Mass.: Harvard University Press, 2003.
52. Olson R.W. The Esnaf and the Patrona Halil Rebellion of 1730: A Realignment in Ottoman Politics? Journal of the Economic and Social History of the Orient 17, no. 3, 1974, P. 329–344.
53. Brummett P. The Ottomans as a World Power: What We Don't Know about Ottoman Sea-Power. Oriente Moderno 20, no. 1, 2001, P. 1–21.
54. Pamuk Ş. A Monetary History of the Ottoman Empire. Cambridge: Cambridge University Press, 2000.
55. Panzac D. Commerce et navigation dans l'Empire Ottoman au XVIIIe siecle. Istanbul: Isis Press, 1996.
56. Panzac D. The Barbary Corsairs. The End of a Legend, 1800—1820, trans. Victoria Hobson and John E. Hawkes. Leiden and Boston: Brill, 2005.
57. Papastamatiou D. Wealth Distribution, Social Stratification and Material Culture in an Ottoman Metropolis: Thessaloniki According to the Probate Inventories of the Muslim Court (1761–1770). Istanbul: The Isis Press, 2017.
58. Peyssonnel M. Lettre de M. de Peyssonnel, Contenant Quelques observations relatives aux Memoires qui ont paru sous le nom de M. le Baron de Tott. Amsterdam: N.p., 1785.
59. Pococke R. A Description of the East. A General Collection of the Best and Most Interesting Voyages and Travels in All Parts of the World, vol. 10. Ed. J. Pinkerton. London: Longman, Hurst, Rees, and Orme, 1811.
60. Prousis T.C. Smyrna in 1821: A Russian View. University of North Florida History Faculty Publications 16, 1992, P. 145–168.
61. Quataert D. Janissaries, Artisans and the Question of Ottoman Decline, 1730–1826. 17th International Congress of Historical Sciences. I: Chronological Section, Madrid, 1990. Eds E. B. Ruano and M. Espadas Burgos. Madrid: Comite International des Sciences Historiques, 1992, P. 197–203.
62. Rafeq A. The Local Forces in Syria in the Seventeenth and Eighteenth Centuries. War, Technology and Society in the Middle East. Eds. V. J. Parry and M. E. Yapp. Oxford: Oxford University Press, 1975, P. 277–307.
63. Raymond A. Soldiers in Trade: The Case of Ottoman Cairo. British Journal of Middle Eastern Studies 18, no. 1, 1991, P. 16–37.
64. Raymond A., Le Caire des janissaires: L'apogee de la ville ottomane sous 'Abd al-Rahman Kathuda. Paris: CNRS Editions, 1995.
65. Raynal G.T., Peuchet J.J. Histoire philosophique et politique des etablissements et du commerce des Europeens dans l'Afrique septentrionale, vol. 2. Paris: Pierre Maumus, 1826.
66. Reed H.A. Ottoman Reform and the Janissaries: The Eşkenci Lahiyası of 1826. Turkiye'nin Sosyal ve Ekonomik Tarihi (1071–1920). Eds Osman Okyar and Halil İnalcık. Ankara: Meteksan, 1980, P. 193–197.
67. Sajdi D. Ottoman Tulips, Ottoman Coffee Leisure and Lifestyle in the Eighteenth Century. London: I. B Tauris, 2007
68. Salzmann A. An Ancien Regime Revisited: 'Privatization' and Political Economy in the Eighteenth Century Ottoman Empire. Politics and Society 21, no. 4, 1993, P. 393–423.
69. Salzmann A. The Age of Tulips: Confluence and Conflict in Early Modern Consumer Culture (1550–1730). Consumption Studies and the History of the Ottoman Empire, 1550–1922. Ed. Donald Quataert .New York: SUNY Press, 2000, P. 83–106.
70. Savary C.E. Letters on Greece: Βeing a Sequel to Letters on Egypt, and Containing Travels through Rhodes, Crete, and Other Islands of the Archipelago. London: G. G. J. and J. Robinson, 1788.
71. Sieber F.W. Reise nach der Insel Kreta im griechischen Archipelagus im Jahre 1817, vol. 2. Leipzig: Fleischer, 1823.
72. Slade A. Turkey and the Crimean War: A Narrative of Historical Events. London: Smith, Elder and Co., 1867.
73. Spyropoulos Y. Janissary Politics on the Ottoman Periphery (18th — Early 19th c.). Halcyon Days in Crete IX: Political Thought and Practice in the Ottoman Empire. Ed. Marinos Sariyannis. Rethymno: Crete University Press, 2019, P. 449–481.
74. Spyropoulos Y. Κοινωνική, διοικητική, οικονομική και πολιτική διάσταση του οθωμανικού στρατού: οι γενίτσαροι της Κρήτης, 1750–1826. PhD diss., University of Crete, 2014.
75. Sunar M.M. Cauldron of Dissent: A Study of the Janissary Corps, 1807–1826". PhD diss., State University of New York, 2006.
76. Sunar M.M. When Grocers, Porters and Other Riff-Raff Become Soldiers: Janissary Artisans and Laborers in the Nineteenth Century Istanbul and Edirne. Kocaeli Universitesi Sosyal Bilimler Enstitusu Dergisi 17, no. 1, 2009, P. 175–194.
77. Tancoigne J. M. Voyage a Smyrne, dans l'archipel et l'ile de Candie, vol. 1. Paris: J. L. Chanson, 1817.
78. Tezcan B. Lost in Historiography: An Essay on the Reasons for the Absence of a History of Limited Government in the Early Modern Ottoman Empire. Middle Eastern Studies 45, no. 3, 2009, P. 477–505.
79. Tezcan B. The Second Ottoman Empire: Political and Social Transformation in the Early Modern World. Cambridge: Cambridge University Press, 2010.
80. Toroser T. Kavanin-i Yeniceriyan (Yeniceri Kanunları). Istanbul: Turkiye İş Bankası Kultur yayınları, 2011.
81. Sel Turhan F. The Ottoman Empire and the Bosnian Uprising: Janissaries, Modernisation and Rebellion in the Nineteenth Century. London and New York: I. B. Tauris, 2014.
82. Ulker N. 1797 Olayı ve İzmir'in Yakılması. Tarih İncelemeleri Dergisi 2, 1984, P. 117–159.
83. Uzuncarşılı İ.H., Osmanlı Devleti Teşkilatından Kapukulu Ocakları, vol. 1. Ankara: Turk Tarih Kurumu, 1988.
84. Vlami D. Το φιορίνι, το σιτάρι και η οδός του Κήπου. Έλληνες έμποροι στο Λιβόρνο (1750–1868). Athens: Θεμέλιο, 2000.
85. Wilkins C.L. Forging Urban Solidarities: Ottoman Aleppo, 1640–1700. Leiden: Brill, 2009.
86. Yaycıoğlu A. Partners of the Empire: The Crisis of the Ottoman Order in the Age of Revolutions. Stanford: Stanford University Press, 2016.
87. Yaycıoğlu A. Guarding Traditions and Laws, Disciplining Bodies and Souls: Tradition, Science, and Religion in the Age of Ottoman Reform. Modern Asian Studies 52, no. 5, 2018, P. 1542–1603.
88. Yaycıoğlu A. Revolutions de Constantinople: The French and the Ottoman Worlds in the Age of Revolutions. French Mediterraneans: Transnational and Imperial Histories . Eds Patricia M. E. Lorcin and Todd Shepard. Lincoln and London: University of Nebraska Press, 2016, P. 21–51.
89. Yaycıoğlu A. The Provincial Challenge: Regionalism, Crisis, and Integration in the Late Ottoman Empire (1792–1812). PhD diss., Harvard University, 2008.
90. Yıldız A. Crisis and Rebellion in the Ottoman Empire: The Downfall of a Sultan in the Age of Revolutions. London — New York: I. B. Tauris, 2017.
91. Yılmaz G. Becoming a Devşirme: The Training of Conscripted Children in the Ottoman Empire. Children in Slavery Through the Ages. Ed. Gwyn Campbell, Suzanne Miers, Joseph C. Miller. Ohio: Ohio University Press, 2009.
92. Yılmaz G. The Economic and Social Role of Janissaries in a 17th Century Ottoman City: The Case of Istanbul. PhD diss., McGill University, 2011.
93. Yi E. Guild Dynamics in Seventeenth Century Istanbul: Fluidity and Leverage. Leiden: Brill, 2004.
94. Zei E. Το ακίνητο και το χρέος στην Πάρο, 18ος—19ος αιώνας. Ανάμεσα στο κοινό και στο ιδιωτικό. Ιστορικά 13, no. 23–24, 1996.
95. Zens R. Pasvanoğlu Osman Paşa and the Paşalık of Belgrade. International Journal of Turkish Studies 8, no. 1–2, 2002, P. 89–104.
Номер журнала, к которому относится содержание