Т.Ю. Кобищанов. «Игра за Суэц» и российский проект трансконтинентальной торговли через Османскую империю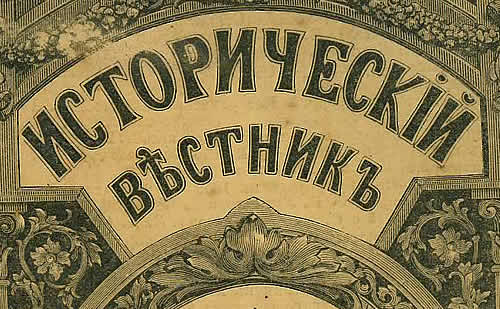 Т.Ю. Кобищанов. «Игра за Суэц» и российский проект трансконтинентальной торговли через Османскую империю // Исторический вестник. 2019. Т. ХXХ. С. 208—265. DOI: 10.35549/HR.2020.22.41.009
T. Y. Kobishchanov. The «Suez Game» and the Russian Project of Transcontinental Trade Via the Ottoman Empire [«Igra za Suec» i rossijskij proekt transkontinental'noj torgovli cherez Osmanskuyu imperiyu]. Istoricheskij vestnik / Historical Reporter. Vol. 30. 2019. P. 208—265. DOI: 10.35549/HR.2020.22.41.009
Ключевые слова: Красноморская торговля, Суэц, Османский Египет, Конрад Тонус, русско-арабские связи.
Key words: The Red Sea trade, Suez, the Ottoman Egypt, Conrad Tonus, Russian-Arab connections.
Abstract
At the last third of the XVIII century, one hundred years before the Suez Channel opening, the European Powers came together in the sophisticated game, the prize in which should be the shortest trade route to the South and South East Asia. There were three reasons for it. The first one was the success of the European Colonialism in India and the enormous profit made by the export of goods from there. Secondly, at this period the weakness of the Ottoman Empire became obvious due to the wars with Russia and Austria. The third reason was the internal situation in Egypt, which rulers ventured to conclude the international treaties. The history of the opening the direct route to India is attracting the researchers for last 150 years at least; the studies that reveal it are published in the main European languages. The documents recently found in Moscow and St. Petersburg archives allow clearing up the Russian role in the 'Suez game' putting it into the context of the international rivalry in Egypt.
Аннотация
В последней трети XVIII в., за сто лет до открытия Суэцкого канала, европейские державы сошлись в сложной игре, призом в которой должен был стать кратчайший путь торговли с Южной и Восточной Азией. Тому было три причины. Первой являлись успехи европейского колониализма в Индии, вывоз товаров из которой приносил колоссальные прибыли. Во-вторых, именно в этот период в ходе войн с Россией и Австрией явственно проявилась слабость Османской империи. Третьей причиной стала внутренняя ситуация в самом Египте, правители которого осмелились самостоятельно заключать международные соглашения. История открытия прямого пути в Индию привлекает внимание историков на протяжение, как минимум, последних 150 лет, посвященные ей труды вышли на основных европейских языках. Документы, обнаруженные в архивах Москвы и Санкт-Петербурга, позволяют понять роль России в международной «игре за Суэц», вписав ее в широкий контекст колониального соперничества в Египте.
References
1. Archive of Foreign Policy of Russian empire (AVPRI). F. 32 «Russian Relations with Austria»; F. 48 «Russian Relations with Genoa»; F. 89 «Russian Relations with Turkey»; F. 90 «Mission to Constantinople».
2. Russian State Archive of Navy (RSAN). F. 315 «Materials on the History of Russian Navy. Collection».
3. Arcier А. F. d'. Les echelles du Levant sous la Revolution francaise. Lille: A.N.R.T., Universite de Lille, 1991.
4. Auriant. Un agent de Catherine II en Egypte: M. de Thonus (1784–1789) // l'Acropole. 1927. T. II. P. 112–127.
5. Auriant. Aventurier ventien en Egypte Carlo Rossetti // l'Acropole. 1929. T. IV. Р. 174–193.
6. Baldwin G. Political Recollections Relative to Egypt, Containing Observations on its Government under the Mamlukes. London: W. Balmer, 1802.
7. Bolts G. Precis de l'Origine, de la Marche et de la Chute de la Companie d'Asie et de l'Afrique dans les ports du littoral autrichien. Liege, 1785.
8. Bruce J. Voyage en Nubie et en Abyssinie, entrepris pour decouvrir les sources du Nil, pendant les annees 1768, 1769, 1770, 1771, 1772 & 1773. Paris: Hotel de Thou, 1791.
9. Charles-Roux F. Les origines de l'expédition d'Égypte. Paris: Pion-Nourrit, 1910.
10. Charles-Roux F. L'Angleterre, l'Isthme de Suez, et l'Égypte. Paris: Pion, 1922.
11. Charles-Roux F. Le projet français de conquête de l'Égypte sous le règne de Louis XVI. Le Caire, 1929.
12. Clement R. Les Francais d'Egypte au XVII et XVIII siècles. Cairo: IFAO, 1960.
13. Crecelius D. Unratified Commercial Treaties between Egypt and England and France, 1773–1794 // Revue d'Histoire Maghrebine (Epoque moderne et contemporaine). 1985. No 37–38. P. 67–104.
14. Crecelius D. The Attempt by the Greek Catholics to Control Egypt's Trade with Europe in the Second Half of the Eighteenth Century // La vie sociale dans les provinces arabes a l'epoque ottomane. Vol. 3. Tunis, 1988. P. 121–132.
15. Crecelius D. A Late Eighteenth-Century Austrian Attempt to Develop the Red Sea Trade Route // Middle Eastern Studies. Vol. 30. No 2. April 1994. P. 262–280.
16. Demiroglu H. Ottoman-Russian Trade Treaty of 1783 [Osmansko-Rossijsky torgovy dogovor 1783 g.] // History of Trade, Taxes and Duties [Istoria torgovli, podatkiv ta mita]. №2 (12). Kiev, 2015. P. 72–80.
17. Fay E. Original Letters from India. London: Hogarth Press, 1986.
18. Frémeaux J. La France et l'Islam depuis 1789. Paris: P.U.F., 1991.
19. Frumin D.V. The Mission of Baron Tonus: the First Russian Consul in Egypt was Appointed 225 Years Ago [Missia barona Tonusa: 225 let nazad v Egypte byl naznachen pervi rossijski konsul] // Vostochni Arhiv. №1(19). Moscow, 2009. P. 4–15.
20. Fusaro M. Political Economies of Empire in the Early Modern Mediterranean: the Decline of Venice and the Rise of England, 1450–1700. Cambridge: Cambridge University Press, 2015.
21. Gough B.M., King R.J. William Bolts: An Eighteenth Century Merchant Adventurer // Archives: the Journal of the British Records Association. Vol. XXXI. No. 112. April 2005. P. 8–28.
22. Hope T. Anastasius, or Memoirs of a Greek. London: The Long Riders' Guild press, 2007.
23. Hoskins H.L. British Routes to India. New York: Octagon books, 1966.
24. al-Jabarti, 'Abd al-Rahman. History of Egypt. 'Aja'ib al-Athar fi 'l-Tarajim wa 'l-Akhbar, ed. by Thomas Philipp and Moshe Perlmann. Stuttgart: Franz Steiner Verlag, Stuttgart, 1994.
25. Jasanoff M. Edge of Empire, Lives, Culture, and Conquest in the East, 1750–1850. New York: Vintage books, 2006.
26. Kimche D. The Opening of the Red Sea to British Ships in the Late Eighteenth Century // Middle Eastern Studies. No 6. January. 1972. P. 63–71.
27. Kobischanov T.Y. Christian Communities in the Arab-Ottoman World (XVII — First Third of XIX centuries) [Hristianskie obshhiny v araboosmanskom mire (XVII — pervaja tret' XIX v.)]. M., 2003.
28. Kobischanov T.Y. Russian mamluks in the Ottoman Egypt [Russkiye mamluki v Osmanskom Eguipte] // Moscow University Revue [Vestnik Moskovskogo Universiteta]. 2008. Part 13. Oriental Studies. №2. P. 47–68.
29. Kobischanov T.Y. Russian-French Confrontation in the Middle East at the Time of Egyptian Expedition of Napoleon Bonaparte, 1798–1801 [Rossijskofrantsuzskoye protivostoyaniye na Blijnem Vostoke v gody Eguipetskogo pohoda Napoleona Bonaparta] // French Annual [Frantsuzski Ejegodnik]. 2019. P. 254–277.
30. Lupanova M.E. The Greek Project of Catherine II [Grecheskij proekt Ekateriny II], Izvestija Rossijskogo gosudarstvennogo pedagogicheskogo universiteta im. A.I. Gercena. 2008. № 65. Р. 198–207.
31. Meyer M.S. The Impact of the 'Price Revolution' in Europe on the Ottoman Empire [Vlijanije 'revolutsii tsen' v Evrope na Osmanskuju imperiju] // Vostok. 1975. №1. P. 96–107.
32. Perminov P. Three Episodes from the History of Russian-Arab Contacts in the XVIII century [Tri epizoda iz istorii russko-arabskih sviazej v XVIII veke] // Azia i Africa segodnia. 1987. № 9.
33. Raymond A. Artisans et commercants au Caire au XVIIIe siecle. Damas: Institut Francais de Damas, 1973.
34. Sattin A. Lifting the Veil: British Society in Egypt, 1768–1956. London: Dent, 1988.
35. Segur L. de. Notes on the Stay in Russia During the Reign of Catherine II [Zapiski o prebyvanii v Rossii v tsarstvovanije Ekateriny II] // Russia in the XVIII Century by the Eyes of Foreigners [Rossija XVIII veka glazami inostrantsev]. Leningrad: Lenizdat, 1989.
36. Shaw St.J. Financial and Administrative Organization and Development of Ottoman Egypt, 1517–1798. Princeton: Princeton University Press, 1962.
37. Smiljanskaja I.M. On the Policy of Catherine the Great in the Mediterranean and First Russian-Arab Political Contacts [O politike Ekateriny II v Sredizemnomor'e i pervyh rossijsko-arabskih politicheskih kontaktah] // Annals [Annaly]. Vol. V–VI. Moscow, 1996.
38. Smiljanskaja I.M., Velijev M.B., Smiljanskaja E.B. Russia in the Mediterranean. The Archipelago' Expedition of Catherine the Great [Rossija v Sredizemnomor'e. Arhipelagskaja jekspedicija Ekateriny Velikoj] Moscow: Indrik, 2011.
39. Stegnij P. Once again on the Greek Project of Catherine II [Eshhe raz o grecheskom proekte Ekateriny II]. Novye dokumenty iz AVPRI MID Rossii. 2002 // Novaja i novejshaja istorija. № 4. P. 52–78.
40. Sulaymān Abd al-Ḥāmid Ḥāmid. Al-mawānīʾ al-miṣriyyat fī al-ʿaṣr al-ʿutmānī: dawruhā al-siyāsī wa-nuẓumuhā al-idāriyyat wa-al-māliyyat wa-aliqtiṣādiyyat [Egyptian Ports at the Ottoman Period: their Political Role and the Order of the Administrative and Economical-Financial Management]. Cairo: Al-Hayʾat al-miṣriyyat al-ʿāmmat li-l-kitāb, 1995.
41. Vandal A. Louis XIV et l'Égypte. Paris: Alphonse Picard, 1889.
42. Tóth F. Un Hongrois en Égypte avant Napoléon. La mission secrète du baron de Tott // Revue historique des armées. № 270. 2013. P. 14–22.
43. Volney. Voyage en Syrie et en Egypte. 3e edition, 1799 // OEuvres. Tome troisieme. Paris: Fayard, 1998.
44. Wood A. A History of the Levant Company. London: Frank Cass & Co Ltd., 1964.
45. Zahlan R.S. George Baldwin: Soldier of Fortune? // Travelers in Egypt. London: Tauris, 2001. P. 24–38.
Номер журнала, к которому относится содержание