Сергеев Е.Ю. Российская революция 1917 г. в общественном дискурсе Великобритании: от эйфории к разочарованию и страху.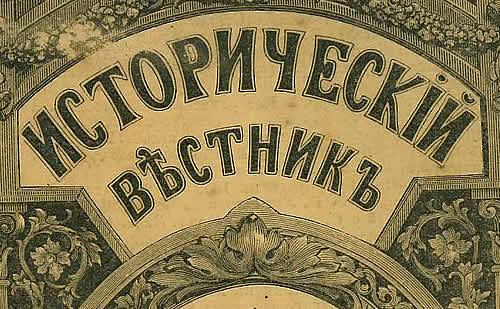 Е.Ю. Сергеев
РОССИЙСКАЯ РЕВОЛЮЦИЯ 1917 Г. В ОБЩЕСТВЕННОМ ДИСКУРСЕ ВЕЛИКОБРИТАНИИ: ОТ ЭЙФОРИИ К РАЗОЧАРОВАНИЮ И СТРАХУ

DOI 10.35549/HR.2019.2018.36614

Сергеев Е.Ю. Российская революция 1917 г. в общественном дискурсе Великобритании: от эйфории к разочарованию и страху. // Исторический вестник. 2018. Т. ХХIII. С. 176—191.

Sergeev E.Y. Russian revolution of 1917 in the public discourse of Great Britain: from euphoria to disappointment and fear. [Rossijskaya revolyuciya 1917 g. v obshchestvennom diskurse Velikobritanii: ot ejforii k razocharovaniyu i strahu]. Istoricheskij vestnik / Historical Reporter. 2018. Vol. 23. P. 176–191.

КЛЮЧЕВЫЕ СЛОВА:
российская революция 1917 г., российско-британские отношения, международная дипломатия, общественное мнение, Временное правительство, британское посольство в России, Керенский, Ллойд Джордж, Бальфур, Бьюкенен.

KEY WORDS:
Russian Revolution of 1917, Russian-British Relations, International Diplomacy, Social Opinion, Temporary Government, British embassy in Russia, Kerenskiy, Lloyd George.

ABSTRACT
The article deals with some key aspects of the perception of the Russian revolution of 1917 by political establishment and public at large in Great Britain which occupied a leading position in the Entente throughout the First World War of 1914–1918. The author retraces the main periods in the transformation of British attitudes to the revolutionary events in Russia: from February to October of the crucial year for this country and the whole world. Based on new or less-known sources, this study is a comparative analysis of evaluations of radical upheaval in the life of the former empire, which became a republic, by representatives of various political parties and movements – from Conservatives to left-Labours. The paper concludes that a circular trajectory may be considered as the most typical for the general dynamics of the Russian (Soviet)-British relations in the Twentieth Century.
В статье рассматриваются некоторые ключевые аспекты восприятия русской революции 1917 года политическим истеблишментом и широкой общественностью Великобритании, занимавшей лидирующие позиции в Антанте на протяжении всей Первой мировой войны 1914-1918 годов. Автор прослеживает основные периоды трансформации отношения англичан к революционным событиям в России: с февраля по октябрь решающего года для этой страны и всего мира. Опираясь на новые или менее известные источники, данное исследование представляет собой сравнительный анализ оценок радикальных потрясений в жизни бывшей империи, ставшей Республикой, представителями различных политических партий и движений-от консерваторов до левых лейбористов. Сделан вывод о том, что круговая траектория может рассматриваться как наиболее характерная для общей динамики российско-британских отношений в ХХ веке.

REFERENCES
Abraham R. Alexander Kerensky: The First Love of the Revolution. New York, 1987.
Alekseeva I.V. Agonija serdechnogo soglasija. Carizm, burzhuazija i ih sojuzniki po Antante. 1914–1917 gg. Lenizdat, 1990, 317 P.
Arnot P.R. The Impact of the Russian Revolution in Britain. London, 1967.
B'jukenen D. Moja missija v Rossii. Vospominanija anglijskogo diplomata 1910–1918. . Per. s angl. M., 2006, 356 P.
Brogan H. The Life of Arthur Ransome. London, 1992.
Carley M. Silent Conflict: A Hidden History of Early Soviet-Western Relations. Lanham, Md., 2014.
Davidson A.B. Obraz Britanii v Rossii XIX i HH stoletij // Novaja i novejshaja istorija, 2005, № 5, P. 51–64.
Esher O. (ed.) Journals and Letters of Reginald Viscount Esher. London, 1938, vol. IV, pp. 98–99. Esher to Stamfordham, March 26, 1917.
Figes O. A People's Tragedy: The Russian Revolution, 1891–1924. London, 1996.
Gardner L. Safe for Democracy. The Anglo-American Response to Revolution, 1913–1923. New York–Oxford, 1987.
Globachev K.I. Pravda o russkoj revoljucii. Vospominanija byvshego nachal'nika Petrogradskogo ohrannogo otdelenija. // Voprosy istorii, 2002, № 9. P 70.
Hansard Parliamentary Debates (PD), ser. 5th, vol. XCI, col. 1421.
Ignat'ev A.V. Ot Fevralja k Oktjabrju. – V kn.: Istorija vneshnej politiki Rossii. Konec XIX – nachalo XX veka. M., 1997, 670 P.
Ignat'ev A.V. Russko-anglijskie otnoshenija nakanune Oktjabr'skoj revoljucii (fevral' – oktjabr' 1917 g. M., 1966, 400 P.
Ignat'ev A.V. Vneshnjaja politika Vremennogo pravitel'stva. M., 1974. 440 P.
Izvestija Petrogradskogo Soveta rabochih i soldatskih deputatov. 26 maja 1917 g. № 75.
Keeble C. Britain and the Soviet Union, 1917–1989. Houndmills–London, 1990.
Kennan G. Russia and the West under Lenin and Stalin. Boston–Toronto, 1960.
Kerenskij A.F. Rossija v povorotnyj moment istorii. Per. s angl. L.A. Igorevskogo. M., 2006, 524 P.
Kettle M. Russia and the Allies. The Allies and the Russian Collapse, March 1917-March 1918. London, 1981, vol. 1, 287 P.
Keynes J. The Economic Consequence of the Peace. London, 1920, 143 P.
Kolonickij B.I. Britanskie missii i A.F. Kerenskij. – V kn.: Rossija v XIX–XX vv./ otv. red. A.A. Fursenko. SPb, 1998.
Lokkart R.B. Istorija iznutri. Memuary britanskogo agenta. Per. s angl. M., 1991, 302 P.
Marquand D. Ramsay Macdonald. London, 1977.
Milton G. Russian Roulette. How British Spies Defeated Lenin. London, 2014, 400 P.
Morning Post, March 17, 1917.
Northedge F., Wells O. Britain and the Soviet Communism: The Impact of a Revolution. London–Basingstoke, 1982.
O'Brien T. Milner. Viscount Milner of Cape Town, 1854–1925. London, 1979.
Ostapenko G.S. Britanskaja monarhija ot korolevy Viktorii do naslednikov Elizavety II: koncepcija upravlenija i lichnost' suverena. M., 2014, 384 P.
Owen F. Tempestuous Journey. Lloyd George: His Life and Time. London, 1954, 376 P.
Oxford University. Bodleian Library. Special Collections. Milner Papers. MS Milner, dep. 372. Memorandum on the Political Situation in Russia, February, 1917.
Pavlovich M. Sovetskaja Rossija i kapitalisticheskaja Anglija (ot jepohi carizma do pravitel'stva Chemberlena – Bolduina 1925 g.). M., 1925, 202 P.
Price M. My Reminiscences of the Russian Revolution. London, 1921.
Russell B. The Practice and Theory of Bolshevism. London, 1920, pt. I.
Sergeev E.Ju. Britanija i Fevral'skaja revoljucija 1917 goda v Rossii (po materialam britanskih arhivov) // Novaja i novejshaja istorija. 2017. № 4. P. 3–15.
Sergeev E.Ju. Russkij Oktjabr' 1917 goda v obshhestvennom mnenii Velikobritanii // Novaja i novejshaja istorija. 2017. № 5. P. 3–17.
Service R. The Last of the Tsars: Nicholas II and the Russian Revolution. London: Macmillan, 2017.
Swain G. The Origins of the Russian Civil War. London–New York, 1996.
Ullman R. Anglo-Soviet Relations, 1917–1921. Princeton, N.J., 1961, vol. 1.
Ward S. James Ramsay Macdonald. Low Born Among the High Brows. New York, 1990.
Warth R. The Allies and the Russian Revolution. From the Fall of the Monarchy to the Peace of Brest-Litovsk. Durham, N.C., 1954.
Wrench J. Alfred Lord Milner. The Man of No Illusions, 1854–1925. London, 1958, сh. XX.

СЕРГЕЕВ ЕВГЕНИЙ ЮРЬЕВИЧ
доктор исторических наук, главный научный сотрудник Института всеобщей истории РАН, профессор Российского государственного гуманитарного университета и Государственного академического университета гуманитарных наук, вице-президент Российской ассоциации историков Первой мировой войны



Номер журнала, к которому относится содержание