Киличенков А.А. СССР и США в поисках ответа на «танковый вызов» германии,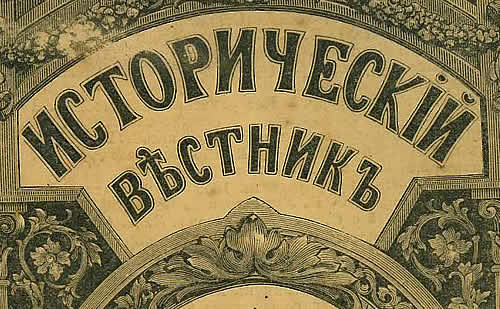 DOI
Киличенков А.А. СССР и США в поисках ответа на «танковый вызов» германии, 1939–1945 гг.// Исторический вестник. 2018. Т. XXIV.С. 96—133.
Alexei A. Kilichenkov. The u.s.s.r. and the use in search of an answer to Germany's "tank challenge" (1939–1945). [SSSR i SShA v poiskah otveta na «tankovyj vyzov» Germania, 1939–1945 gg]. Istoricheskij vestnik / Historical Reporter. 2018.Vol. 24.P. 96–133.
Key Words: Druhá svetová vojna, technická vojna mentalita.
Ключевые слова: Вторая мировая война, техническое противоборство, менталитет.
Abstract
Based on the analysis of the medium tanks' development in the U.S.S.R., the U.S. and Germany in 1939–1945, the author makes an attempts to deduce the mental aspects of military technological rivalry. The development of the tanks is seen in the "challengeanswer" context, with purely national traits of these new models studied in terms of a comparative analysis of the machines' characteristics, as well as their dynamics during the war. With all that in mind, the tank is perceived as the materialized plan of its authors, whose core characteristics (the size, firepower, defense, speed, ease of exploitation) were formed in accordance with the basic values of a specific national culture. The article clearly backs the idea that the military constructing schools of the U.S.S.R. and the U.S. formed their respective "answers" to Germany's "tank challenge" in accordance with the patterns and models that had more similarities than differences. The main aspect of both models was the desire to boost the mass production, while keeping the modernization at a minimum. Contrary to this, the German model relied on winning superiority based on the production of completely new tanks, which reflected the latest technological developments. At the same time, the American and German models had a common consideration for the ease in exploitation, something that was not seen as a priority in the Soviet model.
Аннотация
На основе анализа развития средних танков в СССР, США и Германии в 1939-1945 гг. предпринимаются попытки вывести ментальные аспекты военно-технического соперничества. Развитие танков рассматривается в контексте "challengeanswer", причем чисто национальные черты этих новых моделей изучаются с точки зрения сравнительного анализа характеристик машин, а также их динамики в ходе войны. При всем этом танк воспринимается как материализованный замысел его авторов, основные характеристики которого (габариты, огневая мощь, обороноспособность, скорость, простота эксплуатации) были сформированы в соответствии с основными ценностями конкретной национальной культуры. В статье четко обосновывается мысль о том, что военно-строительные школы СССР и США формировали свои соответствующие "ответы" на "танковый вызов" Германии в соответствии с образцами и моделями, которые имели больше сходства, чем различий. Главным аспектом обеих моделей было стремление форсировать массовое производство, сохраняя при этом модернизацию на минимальном уровне. Вопреки этому, немецкая модель опиралась на завоевательное превосходство, основанное на производстве совершенно новых танков, в которых нашли отражение новейшие технологические разработки. В то же время американская и немецкая модели имели общее соображение о легкости в эксплуатации, что не рассматривалось в качестве приоритета в советской модели.
REFERENCES
1. Baily Charles M. Faint praise: American tanks and tank destroyers during
World War II by Baily Charles M. Hamden, Conn.: Archon Books, 1983.
2. Cameron Robert S. Armor combat development 1917–1945 // Armour. Sep/
Oct. 1997. P. 14–19.
3. Chamberlain Peter, Doyle Hilary. Encyclopedia of German Tanks of World
War Two. The complete illustrated directory of German battle tanks,
armoured cars, self-propelled guns and semi-tracked vehicles, 1933–1945.
London: Cassel, 2001.
4. Chamberlain Peter, Ellis Chris. British and American Tanks of World War Two.
The complete illustrated history of British, American and Commonwealth
tanks. 1939–1945. London: Cassel, 2000.
5. Crow Duncan. Armored fighting vehicles of Germany: World War II. New
York: Arco Pub. Co., 1978.
6. George Forty. German tanks of World War Two in action. London: Blandford,
1988.
7. Green Michael, Green Gladys. Panzers at war. St.Paul: Zenith Press, 2005.
8. Green Michael, Green Gladys. Panther: Germany's quest for combat
dominance. Oxford: Osprey, 2012.
9. Hunnicutt R.P. Sherman. A History of the American Medium Tank. Belmont:
Publishers Press, 1978.
10. Muller John Michael. Ronsons, Zippos, Brew-ups, and Tommycookers: The
M4 Sherman tank and american armored development during World War II
Thesis/dissertation (M.A.) University of Texas at Arlington, 2012.
11. Nehring Walter. Die Geschichte der deutschen Panzerwaffe 1916 bis 1945.
Stuttgart: Motorbuch, 1974.
12. Rottman Gordon L. M3 Medium tank vs. Panzer III: Kasserine Pass 1943.
Oxford, UK; New York: Osprey Pub., 2008.
13. The Encyclopedia of Tanks and Armored Fighting Vehicles / Ed. by
Christopher F.Foss. San Diego: Thunder Bay Press, 2002.
14. Barjatinskij M. Medium Tank Panzer-IV / Supplement to the magazine
«Modelist-Designer». № 6 (27). 1999.
15. Barjatinskij M.B. Lend-Lease Tanks in battle. Moscow: Jauza, Jeksmo, 2009.
16. The Great Patriotic War. 1941–1945. Military Historical Essays. Vol.2. Turning
Point. Moscow: Science, 1998.
17. Got G., Guderian G. Tank's Operations. «Panzer Vorwärts!» / Transl. from
German. Smolensk: Rusich, 1999.
18. Guderian G. Memories of a Soldier / Transl. from German. Rostov n/D.:
Feniks, 1998.
19. From Moscow to «X» country. Memory Book of Soviet volunteersparticipants of the Civil War in Spain. 1936–1939 / Komp. by V.A. Arcybashev,
O.V. Karimov, I.N. Voloshenko. Moscow: Glavarhiv Moskvy, 2015. Vol. 1.
20. History of World War II, 1939–1945. 12 vols. Moscow: Military Publishing,
1974. Vol.2.
21. Kolomiec M.V. Soviet medium tank Т-34. The Best tank of World War II.
Moscow: Jeksmo, Jauza, 2017.
22. Kostenko Ju.P. Tank (Man, Environment, Machine). Moscow: Pravda Severa,
2000.
23. Malyshev V.A. «Ten years will pass, and these meetings cannot be restored
already in memory» // Istochnik. 1997. № 5. P. 103–147.
24. Manshtejn Je. Lost Victories / Compl.: S. Pereslegin, R. Ismailov. Moscow:
AST; S. Peterburgh: Terra Fantastica, 2002.
25. Mellentin F.V. Panzer battles 1939–1945: A study of the employment of armour
in the Second World War. / Transl. from English. Moscow: Izd. inostr. literary,
1957 // Militera. URL: http://militera.lib.ru/h/mellenthin/index.html
26. Arsenal of Victory / Ed. by V.N. Novikov. Moscow: Mashinostroenie, 1987.
27. Russian/Soviet Armored vehicles. ХХ century. 4 vols. Vol. I / Soljankin A.G.,
Pavlov M.V., Pavlov I.V., Zheltov I.G. Moscow: Jeksprint, 2002.
28. Popel' N.K. Tanks turned to the West. Moscow: AST; S. Peterburgh: Terra
Fantastica, 2001.
29. Russia and the USSR in the wars of the XX century: Statistical study. М.:
OLMA-PRESS, 2001.
30. Ulanov A., Shein D. First Т-34. Moscow: Tactical Press, 2013.
Номер журнала, к которому относится содержание