Хедда Райндл-Киль. Статус, награда и роскошь: некоторые заметки по материальному обмену между Россией и Османской империей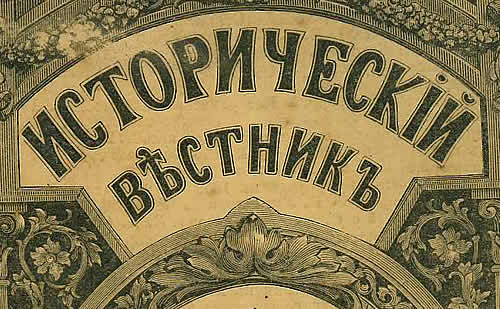 Хедда Райндл-Киль. Статус, награда и роскошь: некоторые заметки по материальному обмену между Россией и Османской империей // Исторический вестник. 2019. Т. ХXХ. С. 80—111. DOI: 10.35549/HR.2020.20.13.003
Hedda Reindl-Kiel. Status, Honor and Luxuries: Some Remarks on Material Exchange between Russia and the Ottoman Empire [Status, nagrada i roskosh': nekotorye zametki po material'nomu obmenu mezhdu Rossiej i Osmanskoj imperiej]. Istoricheskij vestnik / Historical Reporter. Vol. 30. 2019. P. 80—111. DOI: 10.35549/HR.2020.20.13.003
Ключевые слова: материальная культура, мантии за заслуги, дипломатические подарки, собольи меха, моржовые бивни, шатры.
Keywords: Material culture; robes of honour; diplomatic gifts; sable fur; walrus tusks; tents.
Abstract
The motivation of the Ottoman sultans to commence and to keep diplomatic contacts with Muscovy was largely due to their demand for luxury commodities such as sable fur and walrus tusks. The royal court used furs as clear status markers, particularly when bestowing robes of honour upon dignitaries. This feature allows glimpses into the deeply hierarchical structure of Ottoman society, which had only little formal divisions. Moreover, the royal palace used sable fur in a similar function as precious stones in decorating the setting when receiving foreign diplomats.
Imports from the Ottoman Empire to Russia are not documented in the Turkish archives. The same is true for diplomatic gifts from the Ottoman court to Moscow. Only from the 18th century onwards gift packages to the court of St. Petersburg are recorded, indicating Russia's political position as a European global player in the view of the Porte.
Аннотация
Одной из причин инициации и поддержания дипломатических контактов с Московией для Османских султанов было желание обладать определенными предметами роскоши — собольими мехами и моржовыми бивнями. При дворе меха служили маркерами статуса, особенно если мантии вручались первыми лицами как награда за какие-либо заслуги. Более того когда во дворце готовили покои к приему иностранных дипломатов, собольи меха использовались в качестве украшения интерьера, как и драгоценные камням.
В Турецких архивах нет документов об импорте товаров из Османской империи в Россию, дипломатические подарки Османского двора Московии также документально не зафиксированы. Только начиная с XVIII в. велась запись подарков-подношений ко двору в Санкт-Петербурге. Согласно этим документам Россия воспринималась Османской империей в качестве значимого политического игрока.
References
Aktepe M. Mehmed Emnî Beyefendi (Paşa)'nın Rusya Sefâreti ve Sefâret Nâmesi. Second edition, Ankara: TTK, 1989.

Allsen T.T. Robing in the Mongolian Empire, Steward Gordon (ed.), Robes and Honor. The Medieval World of Investiture. New York: Palgrave, 2001. P. 305-313.

Arça S.A. Ayasofya Haziresi'ndeki Şehzadeler Türbesi ve Yeni Buluntular Işığında Osmanlı Defin Geleneği, Ayasofya Müzesi Yıllığı/Annual of Hagia Sophia Museum 13, 2010. P. 303-346.

Atasoy N., Çağman F. Turkish Miniature Painting. Istanbul: R.C.D. Cultural Institute, 1974.

Ayan E. Sürūrī ve Hezliyyāt'ı (İnceleme-Tenkitli Metin-Sözlük) . Unpublished MA Thesis (Yüksek Lisans Tezi). Hacettepe University, Institute for Social Sciences, Ankara, 2002.

Aydın H. Sultanların Silahları. İstanbul: T.C. Kültür ve Turizm Bakanlığı, 2007.

Başer H. C. Hayvansal Kokular/Animalic Aromatics. Kutsal Dumandan, Sihirli Damlaya: Parfüm. Sacred Incense to Fragrant Elixir: Perfume. Istanbul: Yapı Kredi Yayınları, 2005. P. 123-125.

Bennigsen A., Lemercier-Quelquejay C. Les marchands de la Cour ottomane et le commerce des fourrures moscovites dans la second moitié du XVIe , Cahiers du Monde russe et soviétique X/3. 1970. P. 363-390.

Berindei M. Contribution a l'étude du commerce ottoman des fourrures moscovites: La route moldavo-polonaise, 1453-1700. Cahiers du Monde russe et soviétique XII/4, 1971. P. 393-409.

Della Valle, P. Eines vornehmen Römischen Patritii Reiss-Beschreibung in unterschiedliche Theile der Welt: Nemlich In Türckey/Egypten/Palestina/Persien/Ost-Indien/ und andere weit entlegene Landschafften. Samt Einer außführlichen Erzehlung aller Denck- und Merckwürdigster Sachen/ so darinnen zu finden und anzutreffen; Nebenst den Sitten/ und Gebräuchen dieser Nationen und anderen Dingen/ dergleichen zuvor niemals von anderen angemercket und beschrieben worden. Genff: Johann-Herman Widerholds, 1674.

Dziubiński A. Polish – Turkish trade in the 16th to 18th centuries. Selmin Kangal (ed.), War and Peace: Ottoman – Polish Relations in the 15th – 19th Centuries. Istanbul: Turkish Republic Ministry of Culture, General Directorate of Monuments and Museums, 1999, P. 38-45.

Emecen F. Yavuz Sultan Selim. İstanbul: Kapı Yayınları, 2017.

Evliyâ Çelebi. Seyahatnamesi. 7. Kitap. Topkapı Sarayı Kütüphanesi Bağdat 308 numaralı yazmanın transkripsiyonu – dizini. Seyit Ali Kahraman, Yücel Dağlı, Robert Dankoff (eds.). Istanbul: Yapı Kredi Yayınları, 2003.

Evliyâ Çelebi. Seyahatnâmesi. Topkapı Sarayı Kütüphanesi Bağdat 306, Süleymaniye Kütüphanesi Pertev Paşa 462, Süleymaniye Kütüphanesi Hacı Beşir Ağa 452 Numaralı Yazmaların Mukayeseli Transkripsiyonu – Dizin, vol. 9. Yücel Dağlı, Seyit Ali Kahraman, Robert Dankoff (eds.). İstanbul: Yapı Kredi Yayınları, 2005.

Faroqhi S. Red Sea Trade and Communication as Observed by Evliya Çelebi (1671-72). New Perspectives on Turkey 5-6, 1991, P. 87-106.

Feridun Ahmed Beğ. Mecmu'a-yı Münşe'āt al-Selātīn. I. Istanbul, 1264 (1848).

Gerlach S. Stephan Gerlachs deß Aeltern Tage-Buch/ Der von zween Glorwürdigsten Römischen Kaysern. Maximiliano und Rudolpho, Beyderseits den Andern dieses Nahmens. Höchstseeligster Gedächtnüß. An die Ottomanische Pforte zu Constantinopel Abgefertigten/Gesandtschafft. Frankfurt am Mayn: In Verlegung Johann-David Zunners. Gedruckt bey Heinrich Friesen, 1674.

Gibb E. J. W.,A History of Ottoman Poetry. IV. Ed. Edward G. Browne. London: Luzac, 1905.

Gillman M.E. A Tale of Two Ivories: Elephant and Walrus. Espacio, Tiempo y Forma, Serie VII, Historia del Arte (N. Época) 5, 2017. P. 81-105.

Gordon S. A World of Investiture. Idem (ed.), Robes and Honor. The Medieval World of Investiture. New York: Palgrave, 2001. P. 1-19.

Gröblacher J. König Maximilians I. erste Gesandtschaft zum Sultan Baijezid II. Alexander Novotny – Othmar Pichl (eds.), Festschrift Hermann Wiesflecker zum 60. Geburtstag. Graz: Historisches Institut der Universität, 1973. P. 73-80.

Hammer J. Geschichte des Osmanischen Reiches, großentheils aus bisher unbenützten Handschriften und Archiven. V, Pest: C. A. Hartleben's Verlag, 1829; reprint: Graz: Akademische Druck- u. Verlagsanstalt, 1963. [GOR].

İnalcık H. The Customs Register of Caffa, 1487-1490. Cambridge, Mass.: The Department of Near Eastern Languages and Civilizations, Harvard University, 1995.

Işıksel G., La diplomatie ottomane sous le règne de Selîm II: paramètres et périmètres de l'Empire ottoman dans la troisième quart du XVIe siècle. Paris et al.: Peeters, 2016.

Iskusstvo Blistatelnoi Porty [izdanie podgotovleno k vystavke "Iskusstvo Blistatelnoi Porty", Muzei Moskovskogo Kremlia, 16 dekabriia 2008 goda – 15 marta goda]. Moscow: Gosud. Istoriko-Kulturnyi Muzei-Zapovednik "Moskovskii Kreml", 2008.

Grove J.M. Grove, The Little Ice Age. London – New York: Methuen, 1988.

Jirousek C. Ottoman influences in Western dress. Suraiya Faroqhi – Christoph K. Neumann (eds.), Ottoman Costumes: From Textile to Identity. Istanbul: Eren, 2004, P. 231-251.

Kâhya E. Ömer Şifaî. Osmanlı Tarihi Araştırma ve Uygulama Merkezi Dergisi OTAM 4, 1993. P. 171-195.

Karaca F.. Kürk, Türkiye Diyanet Vakfı İslâm Ansiklopedisi 26, Ankara 2002, P. 568-570.

Kirillina S.A. Ocharovannye stranniki: arabo-osmanskii mir glazami rossiiskikh palomnikov XVI-XVIII stoletii. Moskva: Kliuch-S, 2010.

Kołodziejczyk D., Ottoman-Polish Diplomatic Relations 15th-18th Century: An Annotated Edition of 'Ahdnames and Other Documents. Leiden et al.: Brill, 2000.

Laufer B. Arabic and Chinese Trade in Walrus and Narwhal Ivory. T'oung Pao, Second Series 14/3 (1913). P. 315-370.

Madariaga I. Portrait of an eighteenth-century Russian statesman: Prince Dmitry Mikhaylovich Golitsyn, eadem, Politics and Culture in Eighteenth-Century Russia: Collected Essays. London-New York: Longman, 1998. P. 57-77.

Maury C.(ed.) À la cour du Grand Turc: Caftans du palais de Topkapi. Paris: Musée du Louvre Éditions, 2009.

Maxim M. Nouveaux documents turcs sur les cadeaux protocolaires (peşkeş) et les insignes du pouvoir (hükümet alâmetleri), idem, Romano-Ottomanica: Essays & Documents from the Turkish Archives. Istanbul: The Isis Press, 2001, pp. 69-151.

Muhanna E. I. The Sultan's New Clothes: Ottoman-Mamluk Gift Exchange in the Fifteenth Century. Muqarnas XXVII ,2010. P. 189-207.

Naîmâ Mustafa Efendi. Târih-i Na'îmâ (Ravzatü'l-Hüseyn Fî Hulâsati Ahbâri'l-Hâfikayn). II. Ed. Mehmet İpşirli, Ankara: TTK, 2007.

Nehring K. Adam Freiherrn zu Herbersteins Gesandtschaftsreise nach Konstantinopel. Ein Beitrag zum Frieden von Zsitvatorok (1606). München: R. Oldenbourg, 1983.

Nekrasov M. XVI. Yüzyılda Rus-Osmanlı Ekonomik İlişkileri. Türk-Rus İlişkilerinde 500 Yıl, 1491-1992: Ankara, 12-14 Aralık 1992. Ankara: TTK, 1999. P. 91-96.

Niggl S. Reisebeschreibung von Wien nach Konstantinopel. Ed. Inga Pohlmann. Konstanz: Edition Isele, 2005.

Norman A. Stillman, Khil'a, The Encyclopaedia of Islam, second edition. V. Leiden 1986. P. 6-7.

Ölçer N. Turkish Carpets and their Collections in Turkey, Turkish Carpets from the 13th-18th Centuries. [Published in conjunction with the "Turkish Carpets from the 13th-18th Centuries" exhibition held at the Museum of Turkish and Islamic Arts, Istanbul, 26 September-12 November 1996.] Istanbul: Ahmed Ertuğ, 1996, pp. VII-XXbbbII.

Öz T. Türk Kumaş ve Kadifeleri. 2 vols., Ankara 1950 - Istanbul 1951.

Pamuk Ş. İstanbul ve Diger Kentlerde 500 Yıllık Fiyatlar ve Ücretler, 1469-1998/500 Years of Prices and Wages in Istanbul and Other Cities. Ankara: T.C. Başbakanlık Devlet İstatistik Enstitüsü, 2000.

Parker G. Global Crises: War, Climate Change and Catastrophe in the Seventeenth Century. New Haven – London: Yale University Press, 2013.

Pedani M.P. Safiye's Household and Venetian Diplomacy. Turcica 32, 2000. P. 9-32.

Phillips A. Ottoman Hil'at: Between Commodity and Charisma. Marios Hadjianastasis (ed.), Frontiers of the Ottoman Imagination: Studies in Honour of Rhoads Murphey. Leiden-Boston: Brill, 2015. P. 111-138.

Raymond H. The Russian Fur Trade, 1550-1700. Berkeley – Los Angeles: University of California Press, 1943.

Reindl-Kiel H Männer um Bāyezīd. Eine prosopographische Studie über die Epoche Sultan Bāyezīds II. (1481-1512). Berlin: Klaus Schwarz, 1983.

Reindl-Kiel H. Der Duft der Macht: Osmanen, islamische Tradition, muslimische Mächte und der Westen im Spiegel diplomatischer Geschenke. Wiener Zeitschrift zur Kunde des Morgenlandes 95. 2005. P. 195-258.

Reindl-Kiel H. Ottoman Diplomatic Gifts to the Christian West. Robert Born – Michał Dziewulski in collaboration with Kamilla Twardowska (eds.), The Ottoman Orient in Renaissance Culture: Papers from the International Conference at the National Museum in Krakow, June 26-27, 2015. Kraków: The National Museum, 2015, P. 95-116.

Reindl-Kiel H. The Empire of Fabrics: The Range of Fabrics in the Ottoman Gift Traffic (16th-18th Centuries)", Barbara Karl – Thomas Ertl (eds.), Inventories of Textiles – Textiles in Inventories: Interdisciplinary Studies on Late Medieval and Early Modern Sources and Material Culture. Wien: V&R unipress, Vienna University Press, 2017, P. 143-164.

Rose J. Sasanian Splendor. The Appurtenances of Royalty. Steward Gordon (ed.), Robes and Honor. The Medieval World of Investiture. New York: Palgrave, 2001 P. 35—56.

Russell E. M. Gifts for the Bride: Dowries Diplomacy, and Marriage Politics in Muscovy. Journal of Medieval and Early Modern Studies 38:1, 2008. P. 119-145.

Sanuto M. I diarii. Vol. IX, ed. Federico Stefani. Vol. X, ed. Guglielmo Berchet. Venezia, 1883.

Schnitzer C., Höfische Maskeraden: Funktion und Ausstattung von Verkleidungsdivertissements an deutschen Höfen der frühen Neuzeit. Tübingen: Max Niemeyer Verlag, 1999.

Schweigger S. Ein newe Reyßbeschreibung auß Teutschland Nach Constantinopel und Jerusalem. Nürnberg 1608, reprint (= Frühe Reisen und Seefahrten in Originalberichten Bd. 3), Graz: Akademische Druck- u. Verlagsanstalt, 1964.

Selânikî Mustafa Efendi. Tarih-i Selânikî. I, ed. Mehmed İpşirli, Istanbul: Edebiyat Fakültesi, 1989.

Silâhdar Fındıklı Mehmet Ağa. Sadeleştiren İsmet Parmaksızoğlu, Istanbul: MEB, 1962.

Spandounes T. On the origin of the Ottoman Emperors. Donald M. Nicol (transl., ed.), Cambridge: Cambridge University Press, 1997.

Springberg-Hinsen M. Die Hil'a. Studien zur Geschichte des geschenkten Gewandes im islamischen Kulturkreis. Würzburg: Ergon Verlag, 2000.

Tekin Z. Osmanlılarda Kürk Kullanımı", Hasan Celal Güzel, Kemal Çiçek, Salim Koca (eds.), Türkler. 10, Ankara: Yeni Türkiye, 2002. P. 644-649.

Tezcan H. Atlaslar Atlası: Pamuklu, Yün ve İpek Kumaş Koleksiyonu. Cotton, Woolen and Silk: Fabrics Collection. Istanbul: YKY, 1993.

Tezcan H. Furs and skins owned by the Sultans. Suraiya Faroqhi – Christoph K. Neumann (eds.), Ottoman Costumes: From Textile to Identity. Istanbul: Eren, 2004. P. 63-79.

The Tsars and the East: Gifts from Turkey and Iran in the Moscow Kremlin. [Issued in connection with an exhibition held May 9 – September 13, 2009, organized by the State Museums of the Moscow Kremlin and the Arthur M. Sackler Gallery, Smithsonian Institution]. Washington 2009.

Uluçay Ç. Yavuz Sultan Selim Nasıl Padişah Oldu. Tarih Dergisi 11-12. 1954-55. P. 185-200.

Ünal F. XVIII. Yüzyıl Türk-Rus ilişkilerinde Neplüyev (İstanbul'dan Orenburg'a). Ankara: Gece Kitaplığı, 2014.

Ünal U., Stępniak W. (eds.) Yoldaki Elçi: Osmanlı'dan Günümüze Türk-Leh İlişkileri. Poseł w drodze: Stosunki turecko – polskie od czasów osmańskich do dnia dzisiejszego. Istanbul 2014.

Unat F.R. Osmanlı Sefirleri ve Sefaretnameleri. Second edition, Ankara: TTK, 1987.

Veinstein G. Commercial Relations between India and the Ottoman Empire (Late Fifteenth to Late Eighteenth Centuries): a Few Notes and Hypotheses, Merchants, Companies and Trade: Europe and Asia in the Early Modern Era. Sushil Chaudhury and Michel Morineau (eds.). Cambridge: Cambridge University Press, 1999. P. 95-115.

Veinstein G. Les pèlerins de la Mecque á travers quelques inventaires après décès ottomans (XVIIe – XVIIIe siècles). Revue de l'Occident musulman et de la Méditerranée 31. 1981 P. 63-71.

White S. The Climate of Rebellion in the Early Modern Ottoman Empire. Cambridge et al.: Cambridge University Press, 2013.

Wischnewskaja I. Pracht des Orients. Die Beziehungen des Moskauer Reiches mit Persien und dem Osmanischen Reich", Ulrike Weinhold – Martina Minning (eds.), Zwischen Orient und Okzident: Schätze des Kreml von Iwan dem Schrecklichen bis Peter dem Großen. Berlin – München: Deutscher Kunstverlag, 2012. P. 135-145.

Yentürk A., Yentürk N. Glossary of Perfume Terminology [Küçük Parfüm Terimleri Sözlüğü]. Sacred Incense to Fragrant Elixir: Perfume [Kutsal Dumandan, Sihirli Damlaya: Parfüm]. Istanbul: Yapı Kredi Yayınları, 2005. P. 135-140.

Zimmern F.C. Zimmerische Chronik. ed. Karl August Barack, second edition, Freiburg i.Br. et al.: Mohr, 1881.
Номер журнала, к которому относится содержание