Брюн С.П. Франки «заморской земли» и их западные собратья: история конфликта на примере римской экспансии в княжестве Антиохийском и графстве Триполи (1230-1280-е гг.)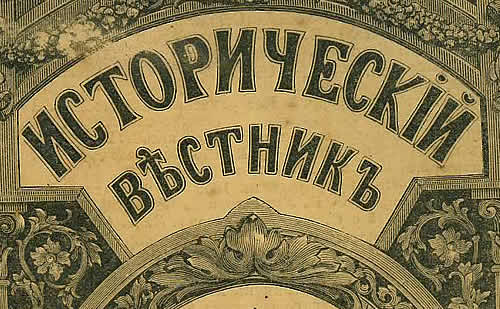 DOI: 10.35549/HR.2022.2021.38.001D

Брюн С.П. Франки «заморской земли» и их западные собратья: история конфликта на примере римской экспансии в княжестве Антиохийском и графстве Триполи (1230-1280-е гг.) // Исторический вестник. 2021. Т. ХXХVIII. С. 82–101.
Brun S.P. The Franks of Outremer and their Western Brethren: examining the conflict through Roman Expansion in the Principality of Antioch and County of Tripoli (1230's—1280's) // Historical Reporter. Vol. 38. 2021. P. 82–101.
Ключевые слова: крестовые походы, Латинский Восток, франки Заморской земли, княжество Антиохийское, графство Триполийское, Рим, Папская область, Боэмунд V, Боэмунд VI, Боэмунд VII, Люсьен де Сеньи, Варфоломей Тортосский.
Key words: Crusades, the Latin East, the Franks of Outremer, the Principality of Antioch, the County of Tripoli, Rome, the Papal State, Bohemond V, Bohemond VI, Bohemond VII, Lucienne de Segni, Bartholomew of Tortosa.
Аннотация
Статья посвящена одной из главных тем и концептов в историографии крестовых походов – конфликту между западными крестоносцами «первого поколения» и франками Заморской земли (Outremer), т.е. теми, кто был рожден на Ближнем Востоке и не знал иного дома, кроме городов и долин Леванта. Автор критически анализирует концептуальные воззрения на суть данного конфликта в историографии XIX-XXI вв. и рассматривает полувековой опыт экспансии римской знати в княжестве Антиохийском и графстве Триполийском (инициированной браком князя Боэмунда V со знатной римлянкой, Люсьен де Сеньи). В отличие от широко-известного конфликта между братьями Лузиньянами и палестинскими баронами в 1180-х гг., экспансия римлян в Триполи и Антиохии действительно может служить редким и полноценным примером острого конфликта между притязаниями западных нобилей и интересами местных, левантийских элит на Латинском Востоке.
Abstract
The article deals with one of the main themes and concepts in the historiography of the Crusades – the conflict between the western, «first generation» Crusaders and pilgrims with the Franks of Outremer, those who were born and knew no home outside of the Middle East. The author critically examines the perception of the conflict in the 19th—21st century historiography, and proceeds with a study of the 50-year period of Roman aristocratic expansion in the Principality of Antioch and County of Tripoli (made possible through the marriage of Prince Bohemond V with the Roman noblewoman Lucien de Segni). This expansion – unlike the infamous clash between the Lusignan brothers and the Palestinian nobility in the 1180's – was perhaps the purest manifestation of the conflict between consolidated western expansion and the local Levantine elites in the Crusader States.
References
1. Ambroise. L'Estoire de la Guerre Sainte. Paris, 1897.
2. Barber M., Bate K., ed. & trans. Letters from the East. Crusaders, Pilgrims and Settlers in the 12th–13th centuries. Ashgate, 2010.
3. Berger E., ed. Registres d'Innocent IV. Vol. I. Paris, 1884–1921.
4. Bournoutian A.A. Cilician Armenia // Armenian People from Ancient to Modern Times. Vol. I. New York, 2004.
5. Brun S.P. The Byzantines and the Franks in Antioch, Syria and Cilicia. 11th–13th centuries. The History of the Interaction between Latin and Byzantine Christians on the Eastern Frontier [Romei i franki v Antiohii, Sirii i Kilikii XI–XIII vv. K kul'turnomu soprikosnoveniyu latinskih i vizantijskih hristian na rubezhah Vostoka]. Moscow, 2015.
6. Brun S.P. The Churches of the East before the Crusader Lord of Outremer: Bohemond IV the One-Eyed and the Christians of the Levant [Cerkvi Vostoka pred krestonosnym pravitelem Zamorskoj zemli: knyaz' Boemund IV Odnoglazyj i hristiane Levanta // Istoricheskij vestnik]. 2017. Vol. 20.
7. Ciggaar K.N. The Adaptation of Oriental Life by Rulers in and around Antioch. Examples and Exempla // East and West in the Medieval Eastern Mediterranean. Antioch from the Byzantine Reconquest until the End of the Crusader Principality. Leuven, 2006.
8. Delaborde H.F. Lettre des Chretiens de Terre-Sainte a Charles d'Anjou, 22 avril 1260 // Revue L'Orient Latin. Vol. II. Paris, 1894.
9. Delaville le Roulx J., ed. Cartulaire general de l'Ordre des Hospitaliers de Saint Jean de Jerusalem (1100–1311). Paris, 1894.
10. Gay J., Vitte S., ed. Les Registres de Nicholas III. Paris, 1898.
11. Gibb G. The Damascus Chronicles of the Crusaders (Damasskie hroniki krestonoscev). Moscow: Centrpoligraf, 2009.
12. Guiberti Abbatis. Gesta Dei per Francos // RHC Occ. IV. Paris, 1879.
13. Guillaume de Tyr. Historia rerum in partibus transmarinis gestarum // RHC Occ. I. Paris, 1844.
14. Guiraud J., ed. Les registres d'Urbain IV (1261–1264): recueil des bulles de ce pape publiees ou analysees d'apres les manuscrits originaux du Vatican. Paris, 1901.
15. Hamilton B. Aimery of Limoges, Latin Patriarch of Antioch (Р. 1142–1196), and the Unity of the Churches // East and West in the Crusades States. Context — Contacts — Confrontations. Vol. II. Leuven, 1999.
16. Hamilton B. The Latin Church in the Crusader States: A Secular Church. London, 1980.
17. Hamilton B. The Leper King and his Heirs: King Baldwin IV and the Crusader Kingdom of Jerusalem. Cambridge, 2000.
18. Hill G. A History of Cyprus. Vol. II. Cambridge, 2010.
19. Iacobi de Vitriaco libri duo, quorum prior Orientalis sive Hierosolymitanae, alter Occidentalis Historiae nomine inscribuntur. Douai, 1597.
20. Jean de Joinville. The Life of Saint Louis [Kniga blagochestivyh rechenij i dobryh deyanij nashego svyatogo korolya Lyudovika]. Saint Petersburg: Evraziya, 2007.
21. Kugler B. The History of the Crusades (Istoriya krestovyh pohodov). Moscow: Feniks, 1996.
22. Les gestes des Chiprois. Geneva, 1887.
23. L'Estoire de Eracles Empereur et la conqueste de la terre d'Outremer // RHC Occ. II. Paris, 1859.
24. Marshall C. Warfare in the Latin East. 1192–1291. Cambridge, 1996.
25. Michaud J.-F. Histoire des Croisades (Istoriya krestovyh pohodov). Moscow: Astrel', 2013.
26. Nicolle D., Hook C. The Knight of Outremer. 1187–1344 // Osprey Military. Warrior Series. London, 1996.
27. Olivier-Martin F. Les registres de Martin IV (1281–1285). Paris, 1901.
28. Panchenko K.A. The Fall of Tripoli (1289) through the eyes of Christian communities in the Middle East [Padenie Tripoli 1289 g. v vospriyatii hristianskih obshchin Blizhnego Vostoka // Istoricheskij vestnik]. 2020. Vol. 31.
29. Rohricht R., ed. Regesta Regni Hierosolymitani. Innsbruck, 1893.
30. Runciman S. A History of the Crusades. Vol. I–III. Cambridge, 1951–1954.
31. Schlumberger G. Renaud de Chatillon — Prince D'Antioche, Seigneur de la Terre D'Outre-Jourdain. Paris, 1898.
32. Smail R.C. Crusading warfare, 1097–1193. Cambridge, 1995.
33. Stone M.E., Kedar B.Z. A Notice about Patriarch Aimery of Antioch in an Armenian Colophon // Apocrypha, Pseudepigrapha and Armenian Studies: Collected Papers. Vol. II. Leuven, 2006.
34. Willemart P. Les Croisades. Mythe et realite de la guerre sainte [Krestovye pohody. Mif i real'nost' Svyashchennoj vojny]. Saint Petersburg: Evraziya, 2006.
Брюн Сергей Павлович – сотрудник Музеев Московского Кремля.
Sergei P. Brun – a Russian historian and publicist, research fellow in the Moscow Kremlin Museums (Department of Middle Eastern art in the Armory Chamber).
Номер журнала, к которому относится содержание